Instrumentation and Measurement
Investmech has vast experience in the instrumentation and measurement of strain, acceleration, force, temperature, flow, pressure, current and voltage.  Recorded signals are used on a continual basis in the verification of structural integrity, or the solving of engineering problems.  The Investmech team use state-of-the-art recording equipment and transducers.  Experimental analysis and support activities include:
Instrumentation and data logging

Strain gauge measurements

Failure and fatigue investigations

Fracture mechanics

Material testing

Liquid resistance starter voltage and current – resistance
Remote data logging and analysis using cloud servers and mobile networks enable Investmech to do online monitoring of a vast range of equipment and structures.
These were applied on mills, gearboxes, automotive vehicles, ladles, furnaces, pipes, shaft steelwork, mining conveyances, buildings, draglines, vehicles, ships, railway vehicles, trains, towers and masts, bridges, plant super structures, seismic equipment, agitators, etc.
Liquid resistance starter current
The two graphs below are the instantaneous and root mean square current measured in a conductor of a liquid resistance starter for an electric motor of a ball mill.  These currents are used to confirm the condition of the liquid in the liquid resistance starter and to do root cause assessment if there are problems.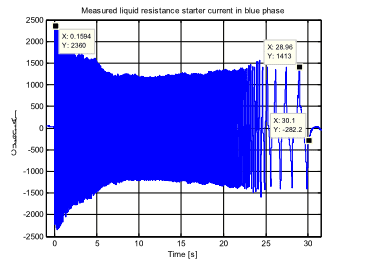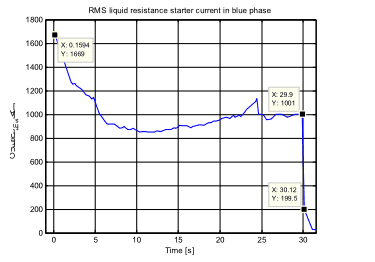 Infrared thermography
This is used a powerful tool in root-cause assessments and condition monitoring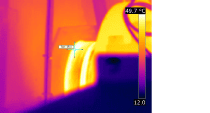 Structural testing
With an extensive range of laboratory equipment, Investmech has testing capabilities to serve all structural and fatigue test requirements.  Investmech offers a niche service in accelerated durability testing.  Investmech uses ARX models to calculate structural inputs that reconstruct recorded or specified responses.  This algorithm is used to calculate drive signals for servo-hydraulic test rigs to excite a dynamic structure reconstructing recorded responses.
Tests include:
Full-scale fatigue tests on components and structures
State-of-the-art multi-axial service load and service response reconstruction

Road simulator vehicle qualification

Static testing

Experimental design verification

Dynamic characterization testing

Seat belt anchorage point

Roll-over and falling-object protective structures – ROPS and FOPS testing

Towing device testing

Damper characterization and durability testing

Vibration testing of electronic and mechanical equipment – seismic testing
Exhaust pipe vibration and thermal fatigue testing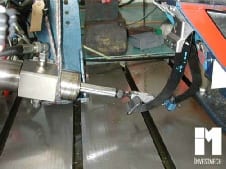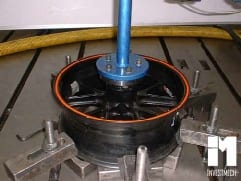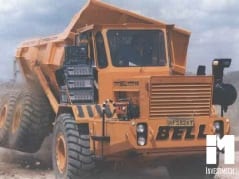 Exhaust thermal fatigue testing
Exhaust thermal fatigue testing is done using a heat source capable of heating to 800 °C for a 4,000 cc engine full throttle flow rate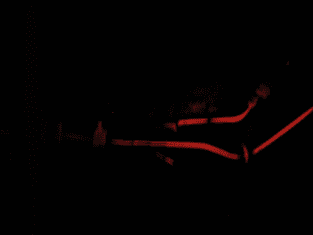 ROPS and FOPS testing
ROPS and FOPS testing are done using standard prescribed falling objects and quasi-static test equipment
Multi-poster accelerated durability testing
Investmech offers accelerated durability testing on vehicles, structures, components, seismic instrumentation, etc. where recorded strain and acceleration responses are reconstructed in the time domain by calculating drive signals for multi-axial servo-hydraulic actuators.  
Test severity ratings of between 10 and 14 are used on most tests.  In exceptional cases, like the test on the left, test severity ratings of 20 to 25 are used.  However, in these extreme test cases system dynamics may influence the accuracy of the durability test.
Testing of shaft steelwork
Investmech carries out several quasi-static and variable amplitude tests on shaft steelwork to ensure the integrity of joints and members.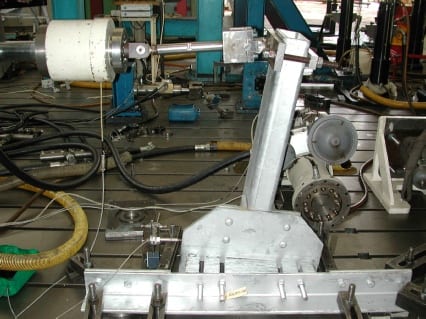 Bunton to guide connection
Testing is done on the picture to the left to confirm the structural integrity of the joint